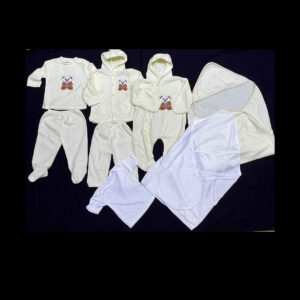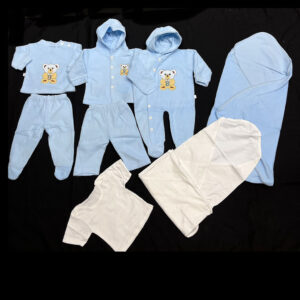 8-Piece Fleece Receiving Set
Keep your little one snug and comfortable with our 8-piece Fleece Receiving Set. Each receiving blanket is made from high-quality fleece material that feels gentle against baby's delicate skin that is perfect for swaddling, cuddling, and tucking your baby in for a comfortable nap. Lightweight and breathable, this set helps regulate baby's body temperature to ensure a restful sleep. Plus, the
8-Piece Fleece Receiving Set
Keep your little one snug and comfortable with our 8-piece Fleece Receiving Set. Each receiving blanket is made from high-quality fleece material that feels gentle against baby's delicate skin that is perfect for swaddling, cuddling, and tucking your baby in for a comfortable nap. Lightweight and breathable, this set helps regulate baby's body temperature to ensure a restful sleep. Plus, the
Welcome your newborn into the world with the softest, coziest, and most affordable receiving baby clothes available at Zawadi Baby Shop. Our 8-Piece Fleece Receiving Set is designed to provide your baby with ultimate comfort and warmth, all at a fantastic price point from our Zawadi baby shop price list.
At Zawadi Baby Shop, we understand the importance of receiving clothes for newborns, which is why our 8-piece Fleece Receiving Set includes all the essentials. Made from high-quality fleece material, these baby receiving blankets and clothes will keep your little one snug and cozy from the moment they arrive.
What's included in our 8-Piece Fleece Receiving Set?
Four ultra-soft fleece baby receiving blankets, perfect for swaddling, covering, and providing comfort during naptime or on the go.
Two adorable fleece receiving baby clothes, featuring easy-to-use snaps for quick diaper changes and dressing.
A pair of warm and cozy fleece booties to keep your baby's feet snug and protected.
A matching fleece hat to keep your newborn's head warm and comfortable.
Why choose the 8-Piece Fleece Receiving Set from Zawadi Baby Shop?
Exceptional Quality: Our receiving clothes for newborns are made from high-quality fleece material, ensuring softness and durability, so your baby stays comfortable and warm.
Thoughtful Design: Each piece in the set is designed with your baby's comfort in mind, from easy-to-use snaps on the clothes to the cozy blankets and matching accessories.
Unbeatable Value: With our competitive Zawadi baby shop price list, you'll enjoy exceptional value with this all-inclusive 8-piece set, making it an excellent choice for new parents or as a thoughtful gift.
Easy Care: The fleece material is machine washable, allowing for easy and convenient care, so you can spend more time cuddling your little one.
Adorable Styles: Our 8-piece Fleece Receiving Set comes in a variety of charming designs and colors, making it easy to find the perfect set to match your baby's personality and nursery décor.
Don't miss out on the chance to provide your newborn with the warmth, comfort, and style they deserve. Shop our 8-Piece Fleece Receiving Set at Zawadi Baby Shop today, and discover why we're the go-to destination for all your baby's needs.
Only logged in customers who have purchased this product may write a review.