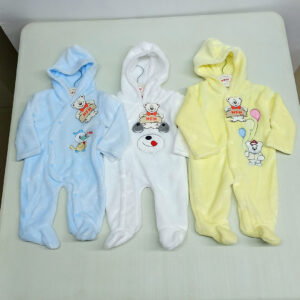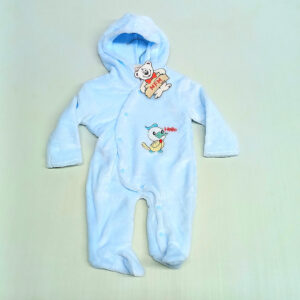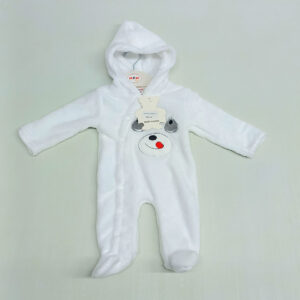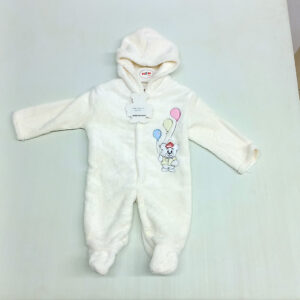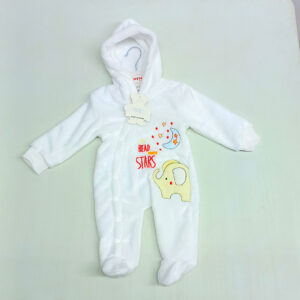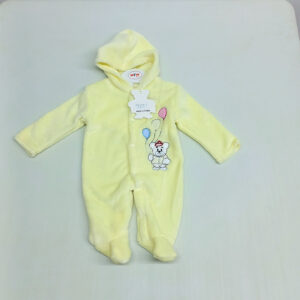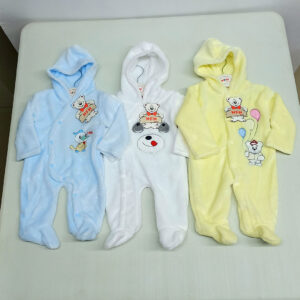 Ultra-soft and cozy Baby Fleece Rompers exclusively at Zawadi Baby Shop
Luxurious design for unmatched comfort, warmth, and style
Perfect for all seasons and suitable for newborns up to 24 months
Crafted from premium, high-quality fleece material, gentle on delicate skin
Delightful range of vibrant colors and adorable prints
Convenient front zipper for easy diaper changes and dressing
Fold-over cuffs on hands and feet to keep tiny fingers and toes warm
Roomy, non-restrictive design for freedom of movement
Machine washable and durable, maintaining softness and vibrant colors
Zawadi Baby Shop's commitment to top-quality products and baby's comfort
Ultra-soft and cozy Baby Fleece Rompers exclusively at Zawadi Baby Shop
Luxurious design for unmatched comfort, warmth, and style
Perfect for all seasons and suitable for newborns up to 24 months
Crafted from premium, high-quality fleece material, gentle on delicate skin
Delightful range of vibrant colors and adorable prints
Convenient front zipper for easy diaper changes and dressing
Fold-over cuffs on hands and feet to keep tiny fingers and toes warm
Roomy, non-restrictive design for freedom of movement
Machine washable and durable, maintaining softness and vibrant colors
Zawadi Baby Shop's commitment to top-quality products and baby's comfort
Zawadi Baby Shop is committed to providing top-quality products that prioritize your baby's comfort and well-being. With our Baby Fleece Rompers, you can be assured that your little one is dressed in style, comfort, and warmth.
Key Features:
Ergonomic design: Baby products are designed with a focus on ergonomics, ensuring proper support for your baby's developing body, reducing strain, and promoting healthy growth.
Safety standards: All baby products adhere to strict safety standards, incorporating features such as child-safe locks, non-toxic materials, and flame-resistant fabrics.
Adjustable sizing: Many baby products come with adjustable sizing options, allowing the product to grow with your child and ensuring a comfortable fit at all times.
Easy maintenance: Baby products are often designed to be easy to clean and maintain, with machine-washable fabrics, removable covers, and wipeable surfaces.
Multi-functional: Many baby products serve multiple purposes, offering added value and convenience, such as convertible cribs that transform into toddler beds or high chairs that can be adjusted to different heights.
Breathable materials: Baby products often use breathable fabrics and materials that allow for proper air circulation, ensuring that your baby stays comfortable and cool.
Attractive designs: Baby products come in a variety of stylish designs, featuring trendy colours, patterns, and themes to match your personal style and nursery décor.
Portability: Many baby products are designed with portability in mind, making it easy to transport them between rooms or even take them on the go.
Stylish Features:
Trendy colours and patterns: Baby products are available in various fashionable colours and patterns, allowing you to choose the perfect match for your nursery or personal style.
Themed designs: Many baby products come in themed designs, such as animals, floral patterns, or popular characters, adding a unique and charming touch to the product.
Contemporary or classic styles: Baby products can be designed in a variety of styles, from sleek and modern to timeless and traditional, ensuring there's a design that suits every taste.
High-quality materials and finishes: Stylish baby products often use premium materials and finishes, providing a luxurious and refined appearance.
Attention to detail: Stylish features may include intricate details, such as embroidery, appliqués, or decorative trims, adding an extra touch of elegance and sophistication to the product.
Available in a delightful range of vibrant colors and adorable prints, these rompers make an irresistibly charming statement that will brighten up your baby's wardrobe and bring a smile to your face.
Only logged in customers who have purchased this product may write a review.