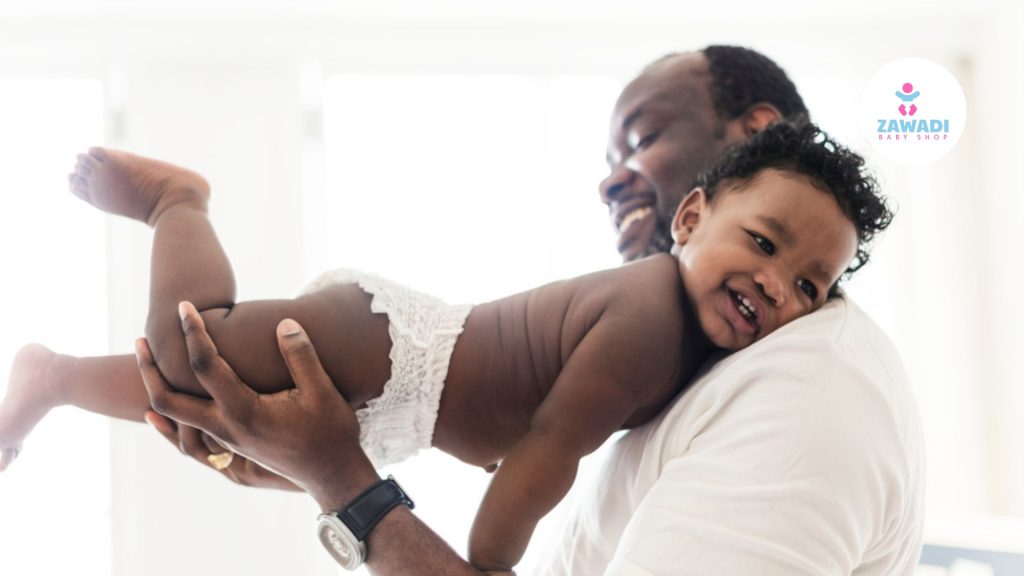 The Ultimate Baby Diaper Size Guide for New Parents: 7 Common Diaper Brands In Kenya
There are so many different brands of baby diapers and none of them has the same sizing chart. It's enough to make your head spin. Which brand is best? Which baby diaper will fit your baby best? What size do you need? These are all questions that every new parent wants to know.
If you find yourself wondering which brand or type of diaper is right for your child, you're not alone. Many parents might be confused about the ins and outs of choosing a diaper for their baby. Let's get started and begin with everything you need to know about choosing the perfect diaper for your little one.
Babies produce 10 to 12 dirty nappies each day soon after birth, but this eventually decreases to six to eight nappies as they age. It's critical to get the right fit for your youngster because there's a lot of pee and poop. A too-loose waistband or too-tight leg holes aren't the only things you don't want to see leakage!
What is the proper size of a diaper?
Over their diaper days, your baby will go through many different sizes. They'll probably start with "Newborn" diapers, which generally accommodate infants up to 10 pounds. Premature babies weighing less than 2 Kg might need "Preemie" diapers, offered by some brands like Huggies.
Some parents like a diaper with extra stretch that will accommodate a newborn's rapid growth. You may also want to choose a style with a U-shaped hole cut out to make umbilical cord care easier. Since newborns make small messes and get changed very frequently, absorbency isn't a huge issue.
As your baby grows and becomes more active, its diapering needs to change. They'll start graduating to different sizes; most brands make baby diapers in size 1 through size 6. Finding the ideal fit is especially important after starting solids in 6 months since messier diapers require minimal leakage. Indeed, as the size becomes bigger, the baby diapers will have more absorbent materials.
Most kids remain in diapers until they're between ages 2 and 3. At this stage, your toddler will be constantly on the go, so look for baby diapers with strong tabs and plenty of stretches. Also make sure to change the diaper often to avoid diaper rash, which can flare up when your kid is in motion. Note that some brands, such as Pampers, even make size 7 diapers for toddlers over 15 Kg.
Baby Diaper Size Chart
While sizing varies between different manufacturers, this baby diaper sizing chart can serve as a guide. Of course, parents should try multiple brands and styles to find what works best.
Preemie Diaper Size: 2 Kgs and under (Preemie diapers are sold by some brands, like Huggies and Pampers)
Newborn Diaper Size: 5 Kgs and under
Size 1: 4– 7 Kgs
Size 2: 5- 8 Kgs
Size 3: 7- 13 Kgs
Size 4: 10- 16 Kgs
Size 5: 12- 16 Kgs
Size 6: 16 Kgs and over
Size 7: 20 Kgs and over (Made for older toddlers, size 7 diapers are sold by some brands like Pampers).
As you may notice, some baby weights overlap between two different sizes. In this case, consider your baby's body type when picking out diapers. A slimmer and longer baby may benefit from the smaller size, for example, while a chubbier baby will fit best in the bigger size. Finding the best baby diaper size might take a bit of trial and error as your child grows.
Types of Diapers in Kenya
The following are the most popular types of baby diapers in Kenya:
a)  Cloth diapers/ Washable diapers
Cloth diapers are simply washable/reusable diapers made using pieces of cloth/fabric.
They not only cut costs (you don't have to keep buying) but they are also more eco-friendly (because you can reuse them).
b) Disposable diapers
Unlike cloth-made pampers, disposable diapers are not reusable. They are instead designed to be tossed away after just one use.
c)  Organic diapers
On the other hand, organic diapers are simply diapers produced using distinct eco-friendly materials such as wood, pulp, etc.
With that short explanation out of the way, let's now proceed to the types of pamper brands in Kenya.
Which brands are the best?
There are dozens of diaper brands available. Finding the right brand can be challenging as there are many factors to consider. It can be difficult to tell which diaper brands are the best. That's why we've researched for you. Now, we aren't going to tell you that one brand of diaper is better than another. After all, every baby is different. What works for one baby may not work for another baby. It all depends on your baby's size and the fit of the diaper.
We've selected a list of diaper brands that are great for any baby. As you shop for diapers, consider the following brands:
1. Huggies
One of the most popular diaper brands in Kenya is Huggies.
It is available in different varieties and sizes including:
Newborn pampers size 1
Newborn pampers size 2
Dry comfort pampers size 2
Dry comfort pampers size 3
Dry comfort pampers size 4
Gold maxi pampers Size 4
Gold junior pampers size 5
Dry comfort pampers size 5
2. Pampers
The pamper brand, the pioneer baby diaper to be imported to Kenya, is another massively popular choice.
It is however pricier compared to the majority of the other Diaper Brands in Kenya.
Pamper sizes include:
Premium Care Diapers Size 2
Premium Care Diapers Size 3
Premium Care Pants Size 3
Premium Care Pants Size 4
Premium Care Pants Size 5
Premium Care Pants Size 6
Baby Dry Mini
Baby Dry Maxi
Baby Dry Junior
3. Molfix
Molfix is another Global diaper brand with good reviews in Kenya.
Their sizes include:
Molfix pants size 3, 4, 5 and 6
Diapers Small Size 2
Diapers Size 3
Diapers Large Size 4
Diapers X-Large Size 5
Diapers Size 3 (6.1 to 9 kgs)
Diapers Size 4 (9.1 to 15 kgs)
4. Softcare
Soft care is among the top diaper brands in Kenya too and the first one to be manufactured locally.
Sizes of softcare diapers include:
Junior gold Diaper Size 5
Maxi gold Diaper Size 4
Mini gold Diaper size 3
Mini gold Diaper Size 2
5. Kisskids
Some of the features in Kisskids diapers include a soft elastic waistband and adjustable magic tapes, ensuring great comfort for the kid.
Some of the bestselling Kisskids baby diaper sizes include sizes 2, 3, and 4.
6. Snuggles
Snuggles diapers are produced using soft breathable and gentle materials that ensure maximum protection for delicate skins.
They come in different sizes including:
Newborn baby diapers
Baby mini diapers size 2
Baby Pull ups size 3
Baby Pull ups size 4
7. Kiddy Care
Kiddy care pampers are breathable cotton-based baby diapers and are slowly gaining popularity among Kenyan parents.
Their sizes include:
Size 4 large diapers
Size 5 large diapers
Size 3 medium diapers
Size 2 small diapers
How to know which size to buy?
If you're having a hard time deciding which size to buy, there is one very simple tip to help you find the right size. You'll want to find the size of your baby's current diaper and then choose a size that is one or two sizes larger. For example, if your baby is currently wearing a size five diaper, you'll want to buy a size six or size seven diaper.
This will ensure that the diaper fits your baby properly. As your baby grows, you'll want to continue to buy the same brand of diaper. However, you'll want to buy a size that is one or two sizes larger. This will ensure that the diaper fits your child as she grows.
Alternatively, If you have any issues or concerns about cloth diapers or maybe your little bundle of joy having a diaper rash, you can contact us at Zawadi Baby Shop and we will give you expert advice on how to handle the situation.
So which diaper is right for your baby?
Now that we've talked about what to consider when buying diapers, you should have a better idea of which brand is best for your baby. There are many factors to consider when buying diapers. While it can seem overwhelming, it doesn't have to be. With the little bit of research we've done for you, you can easily find the perfect brand for your baby.