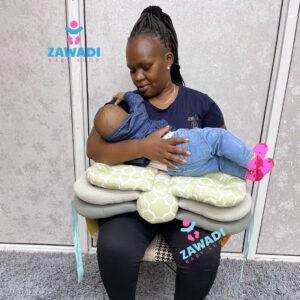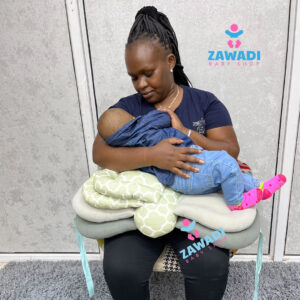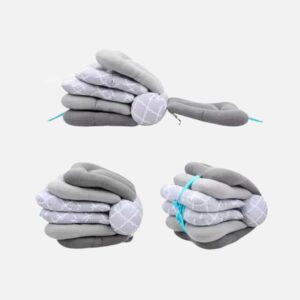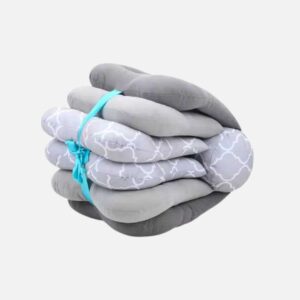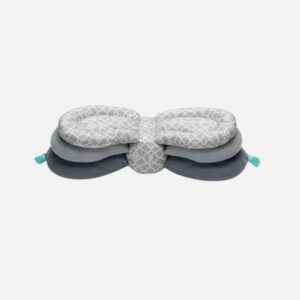 Adjustable Nursing Pillow
Adjustable Nursing Pillow exclusively available at Zawadi Baby Shop
Provides optimal support and comfort for both mom and baby during feeding sessions
Made from high-quality, soft, and breathable materials for ultimate comfort
Unique, adjustable design for finding the perfect height and angle for feeding positions
Promotes proper latch and reduces strain on neck, shoulders, and back
Removable and washable cover for easy maintenance and hygiene
Durable construction and premium materials for lasting support
Versatile design suitable for nursing, bottle feeding, tummy time, and baby support
Lightweight and portable for easy use around the house or on the go
Zawadi Baby Shop's commitment to top-quality, functional, and stylish parenting products
Adjustable Nursing Pillow
Adjustable Nursing Pillow exclusively available at Zawadi Baby Shop
Provides optimal support and comfort for both mom and baby during feeding sessions
Made from high-quality, soft, and breathable materials for ultimate comfort
Unique, adjustable design for finding the perfect height and angle for feeding positions
Promotes proper latch and reduces strain on neck, shoulders, and back
Removable and washable cover for easy maintenance and hygiene
Durable construction and premium materials for lasting support
Versatile design suitable for nursing, bottle feeding, tummy time, and baby support
Lightweight and portable for easy use around the house or on the go
Zawadi Baby Shop's commitment to top-quality, functional, and stylish parenting products
Discover the perfect nursing companion with our Adjustable Nursing Pillow, exclusively available at Zawadi Baby Shop! Designed to provide optimal support and comfort for both mom and baby during feeding sessions, this versatile nursing pillow is an essential addition to your parenting journey.
Here are some additional features and considerations when choosing an Adjustable Nursing Pillow for your nursing journey:
Filling materials: Nursing pillows can be filled with different materials such as foam, microbeads, or polyester fiberfill. Each material has its benefits in terms of support, comfort, and durability, so consider which type suits your needs best.
Shape and design: Adjustable Nursing Pillows come in various shapes and designs, such as wraparound, crescent, or C-shaped. Choose a design that offers the best support and comfort for you and your baby during feeding sessions.
Adjustability mechanisms: The adjustability of nursing pillows may be achieved through zippers, Velcro, or straps. Consider the ease and convenience of each mechanism when selecting your Adjustable Nursing Pillow.
Allergy considerations: If you or your baby have allergies or sensitive skin, look for a nursing pillow made from hypoallergenic materials to minimize irritation.
Slip-resistant features: Some Adjustable Nursing Pillows may have slip-resistant features, such as non-slip fabric or grips on the bottom, to ensure the pillow stays in place during feeding sessions.
Additional accessories: Some nursing pillows may come with additional accessories, such as detachable privacy covers or pockets for storing essentials like burp cloths or nursing pads.
Multipurpose use: Besides nursing, consider if the pillow can be used for other purposes, such as a pregnancy support pillow, as your baby grows and your needs change.
Colour and pattern options: Adjustable Nursing Pillows are available in a variety of colours and patterns, allowing you to choose a design that complements your nursery or personal style.
Ease of cleaning: Opt for a nursing pillow with a removable and machine-washable cover for hassle-free cleaning and maintenance.
Price and budget: Adjustable Nursing Pillows are available at various price points, so consider your budget and the features that are most important to you when making your decision.
At Zawadi Baby Shop, we are committed to providing top-quality, functional, and stylish products to make parenting more enjoyable and convenient.
Our Adjustable Nursing Pillow is the ultimate combination of support, comfort, and adaptability, making it an essential tool for every nursing mom.
Experience the difference and enhance your nursing experience with our Adjustable Nursing Pillow from Zawadi Baby Shop today!
Only logged in customers who have purchased this product may write a review.